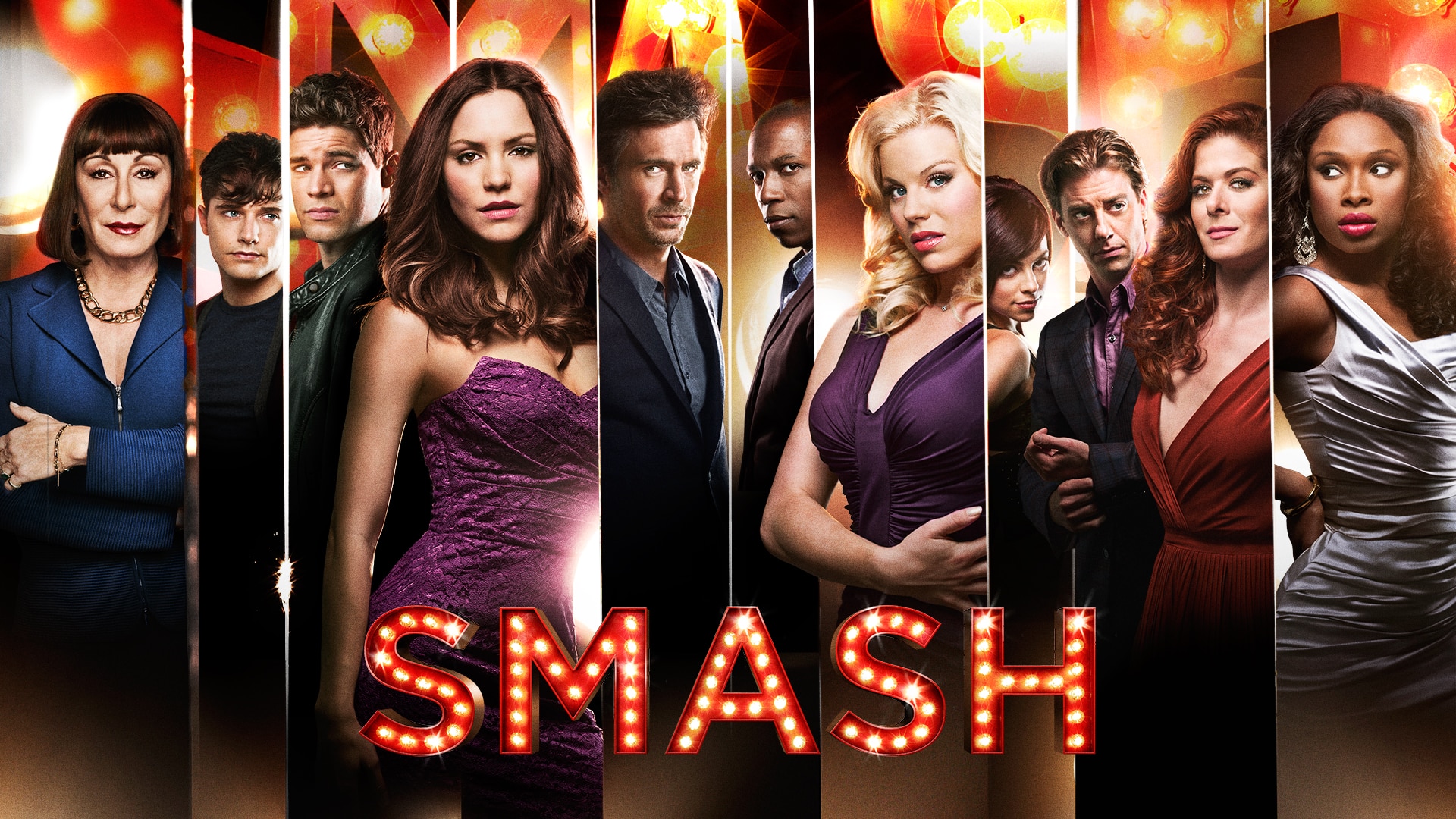 About the Show
"Smash" is a musical drama that celebrates the beauty and heartbreak of the Broadway theater as it follows a cross-section of dreamers and schemers who all have one common desire - to be a "Smash."
In Season 2, the "Bombshell" team comes one step closer to achieving their Broadway dream. The Boston run was the success the team was hoping for, including producer Eileen Rand (Academy Award winner Anjelica Huston, "Prizzi's Honor"); writers Tom Levitt (Tony Award winner Christian Borle, "Peter and the Starcatcher"); and Julia Houston (Emmy Award winner Debra Messing, "Will & Grace"); last-minute star Karen Cartwright (Katharine McPhee, "American Idol"); and director Derek Wills (Jack Davenport, "Pirates of the Caribbean"). But, they are all about to learn even a charmed show cannot avoid paying for sins of the past. Will Eileen get away with mixing business and pleasure with her shady paramour, Nick (guest star Thorsten Kaye)? Will Julia's marriage to Frank (guest star Brian d'Arcy James) survive the revelation of her infidelity? Will actress Ivy Lynn (Megan Hilty, "9 to 5: The Musical") bounce back from the shame of losing the lead role to rival Karen and bedding her fiance in retaliation? And will Tom and Julia's long-time partnership endure the changing tides of opportunity?
As they all scramble to push forward, one of the show's players finds Brooklyn natives Jimmy Collins (Tony Award nominee Jeremy Jordan, "Newsies") and Kyle Bishop (Andy Mientus, "Carrie: The Musical") toiling away on a current-day rock musical of their own, which could either become "Bombshell"'s biggest rival, or yet one more Broadway false start.
Weighing both the benefits and sacrifices of a career on Broadway, the "Smash" cast of Broadway hopefuls is rounded out by Karen's lively new roommate/actress Ana Vargas (Krysta Rodriguez, "The Addams Family") and Tom's boyfriend, Sam Strickland (Leslie Odom, Jr., "Leap of Faith").
"Smash" has welcomed an impressive array of guest stars, including Uma Thurman ("The Producers"), Nick Jonas ("Jonas") and Bernadette Peters ("Gypsy"), and the second season is no different. Oscar-, Golden Globe- and Grammy-winning actress-singer Jennifer Hudson ("Dreamgirls") will appear in a multi-episode arc as Veronica Moore, a Tony Award-winning Broadway star who impacts the lives of Karen and Ivy Lynn. Emmy Award-winning actor Sean Hayes (NBC's "Will & Grace") will also recur as Terrence Falls, the star of the musical "Liaisons," who becomes a major thorn in the side for Ivy Lynn (Megan Hilty) and other characters. Jesse L. Martin (NBC's "Law & Order," "Rent") will play Scott Nichols, the artistic director of a non-profit off-Broadway theatre. Additionally, Harvey Fierstein ("La Cage aux Folles") makes a cameo appearance and Nikki Blonsky ("Hairspray") recurs as Margot, a Broadway producer's assistant.
From Universal Television in association with DreamWorks Television, the series stemmed from an idea of executive producer and multiple Emmy and Oscar winner Steven Spielberg ("ER," "Schindler's List"). Executive producers also include Joshua Safran ("Gossip Girl"); Craig Zadan and Neil Meron (Oscar-winning "Chicago," "Hairspray"); Darryl Frank and Justin Falvey ("United States of Tara," "The Borgias"); Tony and Grammy Award winners Marc Shaiman and Scott Wittman ("Hairspray," "Catch Me If You Can"); Jim Chory (NBC's "Heroes," "American Dreams"); and Theresa Rebeck ("Mauritius," "NYPD Blue").