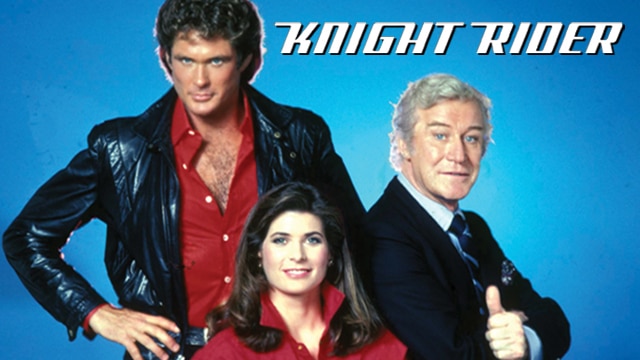 About the Show
Premiere Date
September 26, 1982
Starring
David Hasselhoff as Michael Knight
Edward Mulhare as Devon Miles
Richard Basehart as the Narrator
Patricia McPherson as Bonnie Barstow
William Daniels as the voice of KITT
David Hasselhoff ("Baywatch," "Dodgeball: A True Underdog Story") stars as Michael Knight in his breakout role as a crime fighter who awakens from a serious injury with a new identity. In the series premiere, Las Vegas police detective Michael Arthur Long is shot in the face and left for dead before being rescued by dying millionaire Wilton Knight (Richard Basehart, "Voyage to the Bottom of the Sea"), the chairman of Knight Industries and creator of the public justice organization, the Foundation for Law and Government (FLAG). Wilton makes Michael the primary agent for FLAG, giving him a new identity via plastic surgery and the name Michael Knight, plus an arsenal of equipment to continue his crime-fighting work. Principle among this equipment is the Knight Industries Two Thousand, or KITT (voiced by William Daniels, "St. Elsewhere," "Boy Meets World"), a heavily modified and artificially intelligent Pontiac Firebird Trans Am with the ability to talk, fire weapons and travel at high speed. Michael and KITT work together to take down criminals who operate above the law. They are helped in their work by FLAG's leader, Devon Miles (Edward Mulhare, "The Ghost and Mrs. Muir"), who provides mission details, and by Dr. Bonnie Barstow (Patricia McPherson), KITT's chief technician.
During its four-year run, "Knight Rider" featured appearances by Geena Davis ("Thelma & Louise," "A League of Their Own," "Grey's Anatomy"), Jason Bateman ("Arrested Development," "Horrible Bosses"), Arye Gross ("Ellen," "Castle"), Tony Dow ("Leave It to Beaver"), Maria Conchita Alonso ("One of the Boys," "Resurrection Blvd."), Mary Beth Evans ("General Hospital," "Days of our Lives"), Rosalind Allen ("Santa Barbara"), Richard Anderson ("Perry Mason," "The Six Million Dollar Man," "The Bionic Woman"), Harry Carey Jr. ("Bonanza," "Gunsmoke"), Keith Coogan ("The Waltons"), Jon Cypher ("Santa Barbara," "Hill Street Blues," "Major Dad"), Shelley Berman ("L.A. Law," "Boston Legal," "Curb Your Enthusiasm"), Janine Turner ("Northern Exposure," "Strong Medicine," "Friday Night Lights"), Marc Alaimo ("Hill Street Blues," "Star Trek: Deep Space Nine"), Nancy Lee Grahn ("Murder One," "Melrose Place," "7th Heaven," "General Hospital"), Joan Chen ("Twin Peaks"), Blair Underwood ("Sex and the City," "In Treatment"), Alice Nunn ("Pee-Wee's Big Adventure"), Robert Pastorelli ("Murphy Brown"), Larry Storch ("F Troop"), Tina Louise ("Gilligan's Island," "Dallas"), Christopher McDonald ("Family Law," "Boardwalk Empire"), Robyn Lively ("Doogie Howser, M.D.," "Chicago Hope," "Gortimer Gibbon's Life on Normal Street") and Nana Visitor ("Star Trek: Deep Space Nine," "Dark Angel," "Family Guy").
Created by Glen A. Larson ("Battlestar Galactica," "The Fall Guy," "Magnum, P.I."), "Knight Rider" became an instant hit. The show aired on NBC for four seasons, from 1982 to 1986, and created a spin-off ("Team Knight Rider") and a reboot in 2008. The reboot also aired on NBC and ran for one season; it picked up 25 years after the original series, this time following the adventures of Mike Traceur (Justin Bruening, "All My Children"), the estranged son of Michael Knight, and the next generation KITT.